Post by Nicole on Sept 13, 2010 19:15:02 GMT -5
So I wanted to do something a little different than our typical model games, and I got this idea from the character elimination games.
This game is similar to Survivor. We may all have up to two (possibly 3, depending on how many people get signed up) actresses starring on the CW network to play at a time, myself included. Each round, there will be a challenge to determine who will have immunity (we will all be voting on who we think deserves it) and a photoshoot, in which we will all critique eachothers photo and cast our votes to who we think should be eliminated. In the case of a tie, whoever has immunity that week will be the deciding vote. An extra bonus on having immunity is that you will get to choose the next challenge and photoshoot.
Season 3 Sign Ups (Past or Present CW/WB Actresses)
Laura Vandervoort- Nicole
Alexis Bledel- Nicole
Amanda Seyfried- Nicole
Mischa Barton- Salena
Alona Tal- Salena
Elisha Dushku- Salena
Adrienne Palicki- Ashley
Navi Rawat- Brittany
Samaire Armstrong- Brittany
ELIMINATED
Genevieve Cortese Padaleki- Ashley
Reba Mcentire- Ashley
Allison Mack- Ashley
ROUND 1:
Challenge: Acting
Winner(s): Eliza Dushku
Photoshoot: Headshot
Eliminated: Allison Mack
ROUND 2:
Challenge: Style
Winner: Laura Vandervoort
Photoshoot: Casual
Eliminated: Reba Mcentire
ROUND 3:
Challenge: Colours
Winner(s): Mischa Barton and Alexis Bledel
Photoshoot: Black and White
Eliminated: Genevieve Cortese-Padalecki
ROUND 4:
Challenge:
Winner(s):
Photoshoot:
Eliminated:
Season Two Contestants: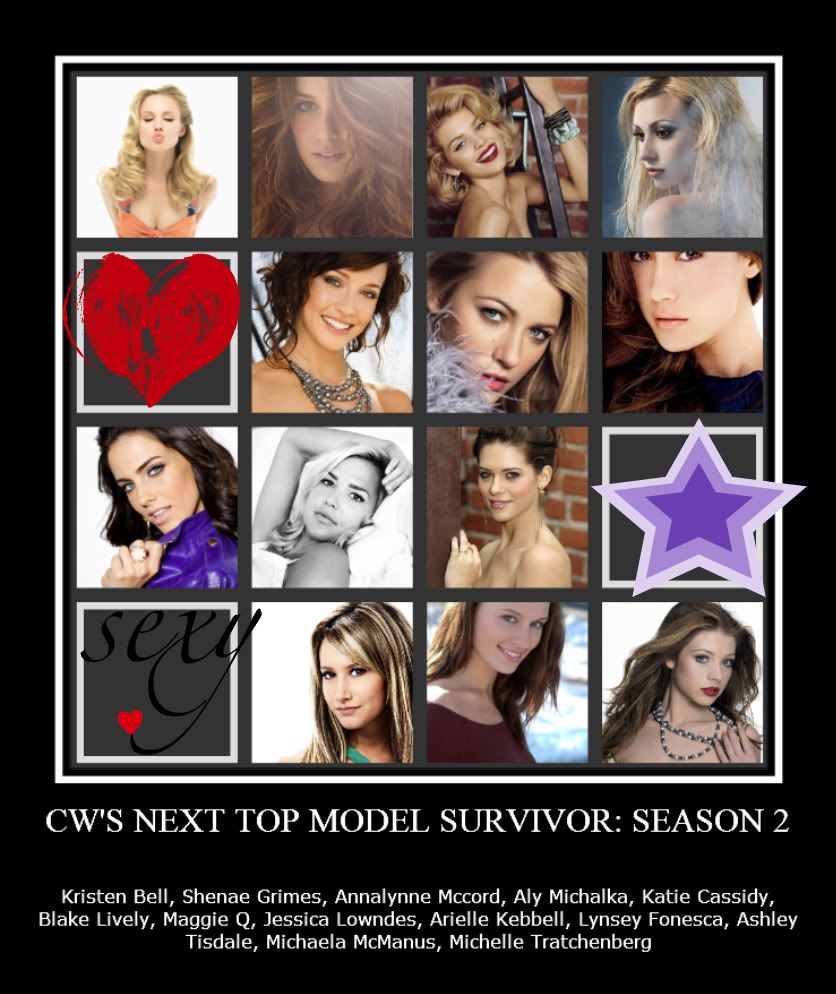 Kristen Bell (Gossip Girl)- Nicole (Winner)
Shenae Grimes (90210)- Brittany (Runner Up)
Annalynne Mccord (90210)- Nicole (2nd Runner Up)
Aly Michalka (Hellcats)- Heather/Ashley
Katie Cassidy (Gossip Girl)- Nicole
Blake Lively (Gossip Girl)- Salena
Maggie Q (Nikita)- Heather/Salena
Jessica Lowndes (90210)- Brittany
Arielle Kebbel (Life Unexpected)- Salena
Lyndsay Fonesca (Nikita)- Heather/Ashley
Ashley Tisdale (Hellcats)- Salena
Michaela McManus (The Vampire Diaries)- Ashley
Michelle Tratchenberg (Gossip Girl)- Ashley
Season One Contestants:
Nina Dobrev- Nicole (WINNER)
Sophia Bush- Nicole (RUNNER UP)
Jessica Stroup- Salena (2ND RUNNER UP)
Shantel Van Santen- Heather
Katerina Graham- Salena
Taylor Momsen- Salena
Leighton Meester- Heather
Candace Acolla- Hannah (disqualified)
Jana Kramer- Nicole
Bethnay Joy Galeotti- Heather
Erica Durance- Hannah
Jessica Szohr- alejandro